Name: Gemma Newbitt
Age: 20
Height: 5ft 4ins
Eye Colour: Hazle
Hair Colour: Brown
Marital Status: VERY single
Star Sign: Cancer(17/07/81) and I am a typical cancer!
Likes: badminton, horses, writing, reading, drinks with friends, computers...
Dislikes: liars, rude ppl, blue cheese, spiders, heights..
I have been riding for almost 11 years now, although over the last year or so I haven't had the chance to ride as much as I have wanted. I have my NVQ's 2 and 3 and my BHS Stage 1 which I worked hard for at Hill Farm Equestrian Training Centre in Chelmsford, Essex, UK. I spent two wonderful but hard years there, learning everthing I could about horses. My friend, Sarah Reid, and I looked after all the horses there like they were our own and there we quite a few (usually over 40!!) and we got so attacted to the great horses. Alot of them were moved from New Hall Girls School and a few were oevr 30 and still going strong.

I then moved to Idleigh Court Stables in Kent, UK, and there I was a Livery Groom. This was a quite exciting job. I got to ride hunters and look after race horses.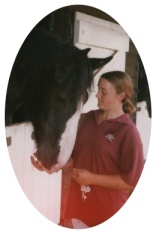 This is me quite a few years ago now with one of the best horses I have ever met, Albert.